Specialist Resource Provision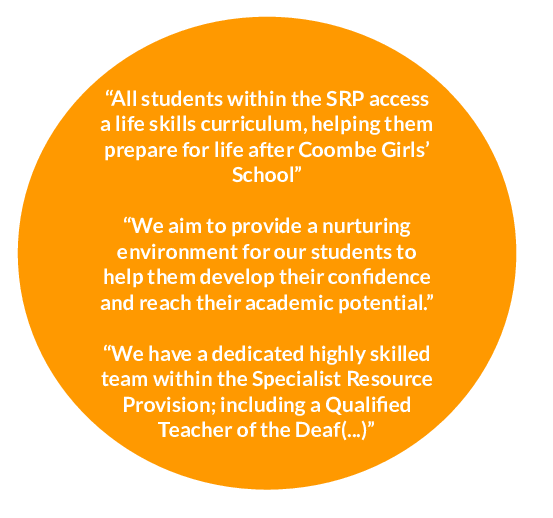 The Specialist Resource Provision (SRP) opened in September 2018, and is an additionally resourced provision within Coombe Girls' School, offering up to six spaces per year for students with moderate-profound hearing loss and/or a speech and language delay.
Our Approach
The Specialist Resource Provision creates bespoke packages for each student that meets their individual needs and supports them academically, socially and emotionally. We work very closely with parents, carers, mainstream staff, the local authority and external authorities.
Communication
We follow an aural-oral approach, however, we use sign supported English and visual prompts to support our students.
We have a dedicated highly skilled team within the Specialist Resource Provision; including a Qualified Teacher of the Deaf, visiting Speech and Language Therapist, specialist language teachers and a Speech and Language Therapy Support Assistant.
We have access to an Occupational Therapy Assistant and ELSA. Daily listening checks are conducted each morning and students' equipment is checked, and audiological equipment is routinely checked by the on site Qualified Teacher of the Deaf.
Our Learning Support Assistants support our students in their mainstream lessons to enable them to access the curriculum.
Curriculum and Layout
Students in the SRP follow a combination of lessons delivered in the mainstream setting and in small groups in the SRP.
The Specialist Resource Provision is positioned alongside the highly successful SEND department in the main school building. The SRP is comprised of a series of low arousal classrooms, a speech and language space, an oasis room, and occupational therapy space. Rooms are acoustically treated and each department in the school is equipped with a soundfield system. For students who are deaf, the school has a number of Roger Touch Radio Aids which can link up to students hearing aids and processors.
Lessons taught within the SRP are highly differentiated, and developed in line with the whole school schemes of work delivered using an integrated curriculum approach. Students are able to access a range of key stage 4 qualifications best suited to their needs and interests.
Colourful Semantics and Shape Coding are incorporated in lessons to support students' language learning.
All students within the SRP access a life skills curriculum, helping them prepare for life after Coombe Girls' School.
Curious.

Creative.

Confident.
Admissions
Students must have an EHCP which states that their primary need is one of the following from our service level agreement:
Severe to profound bilateral hearing loss

Moderate bilateral hearing loss (41dB or more) with significant (two years or more) language delay/disorder.

Students with two years or more language delay/disorder.
Achieving for Children is the admitting authority for the SRP; all applications for the provision should be made through the local authority. For Year 7 spaces, parents should express an interest by the deadline, published by Achieving for Children, in the Autumn term of Year 6.
Our Vision:

We aim to provide a nurturing environment for our students to help them develop their confidence and reach their academic potential.
Contact details
For more information about the Specialist Resource Provision, or to arrange a tour, please contact Mrs Esmée Šušuková.